GET MORE DONE IN MUCH LESS TIME, RUN INNOVATIVE BUSINESS PROCESSES, AND REINVENT YOUR BUSINESS WITH ANALYTICS AND AI-DRIVEN FUNCTIONS
Intelligent enterprise is the new way of doing business by transforming your data to actionable insights in real-time and enabling intuitive process automation and integration with Artificial Intelligence (AI). SAP's Intelligent ERP offerings enables enterprises like yours to bring about valuable business change, thereby pushing you one step ahead of your competition.
ENHANCE CUSTOMER EXPERIENCE THE INTELLIGENT WAY
WITH INSIGHTS-POWERED FUNCTIONALITY
Achieve higher efficiency and accelerate digital transformation without heavy investments
In today's experience economy, riddled with constant disruption, businesses must transform into an intelligent enterprise in order to innovate and beat competition. Leverage SAP's flagship intelligent Cloud-powered ERP solution to gain broadest and deepest range of analytics and AI-powered functionality. Rapidly transform data into insight, enable process automation, expedite innovation, and design optimal experiences for your customers.
KEY FEATURES OF INTELLIGENT ERP
Create a fluid business environment with integration of AI, machine learning, and conversational capabilities
AccessTEL GROUP - OUR SAP BUSINESS ONE HANA OFFERINGS​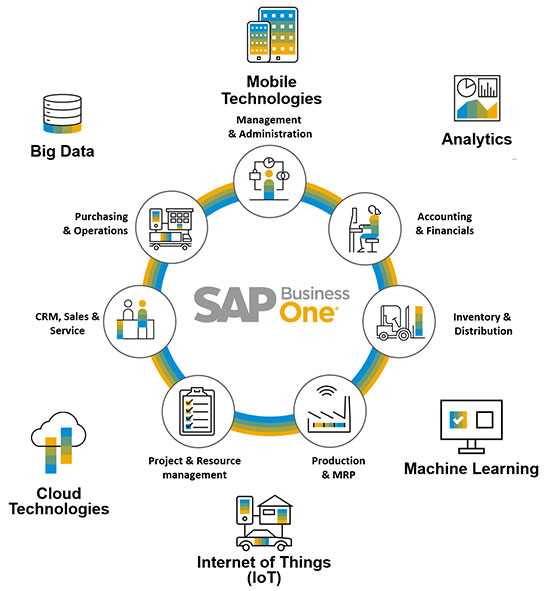 Feel free to talk to us about any quarries related to SAP business one, Implementation or anything at all. Our support team will be in tough with you shortly.